This is a joint blog post, written by Triblio and Sendoso. Triblio executes multichannel digital campaigns and Sendoso is an engagement delivery platform. Both ABM platforms are used by FinancialForce, the #1 ERP solution built on Salesforce.
Last week at TOPO Summit 2018, FinancialForce's Hussam AlMukhtar (Sr. Demand Gen Marketer) and Quyen Le (Sr. Director, Global Field Enablement) shared how they launched a "Pipeline SWAT Team" to crack the code for Revenue Growth.
Investigative Findings
They shared the following roadblocks to pipeline and revenue generation:
Account list was too broad.
Lack of alignment between sales and marketing.
Demand gen focused on products, not segments.
Campaign technology wasn't fit to operationalize best strategies.
All findings pointed to the need for a more unified, account-based approach to marketing and sales.
Secret Weapon: ABM Strategies
Marketing started as completely leads-based, but by the end of the 2017, marketing was 50% account-based, and the goal for 2018 is to be 80% account-based.
In the past, marketing ran one-dimensional campaigns, such as the "Echo Ransom," but weren't seeing the results they needed to prove ROI. They found the root cause was lack of personalization and under utilizing other channels.
Today, their campaigns look more like this: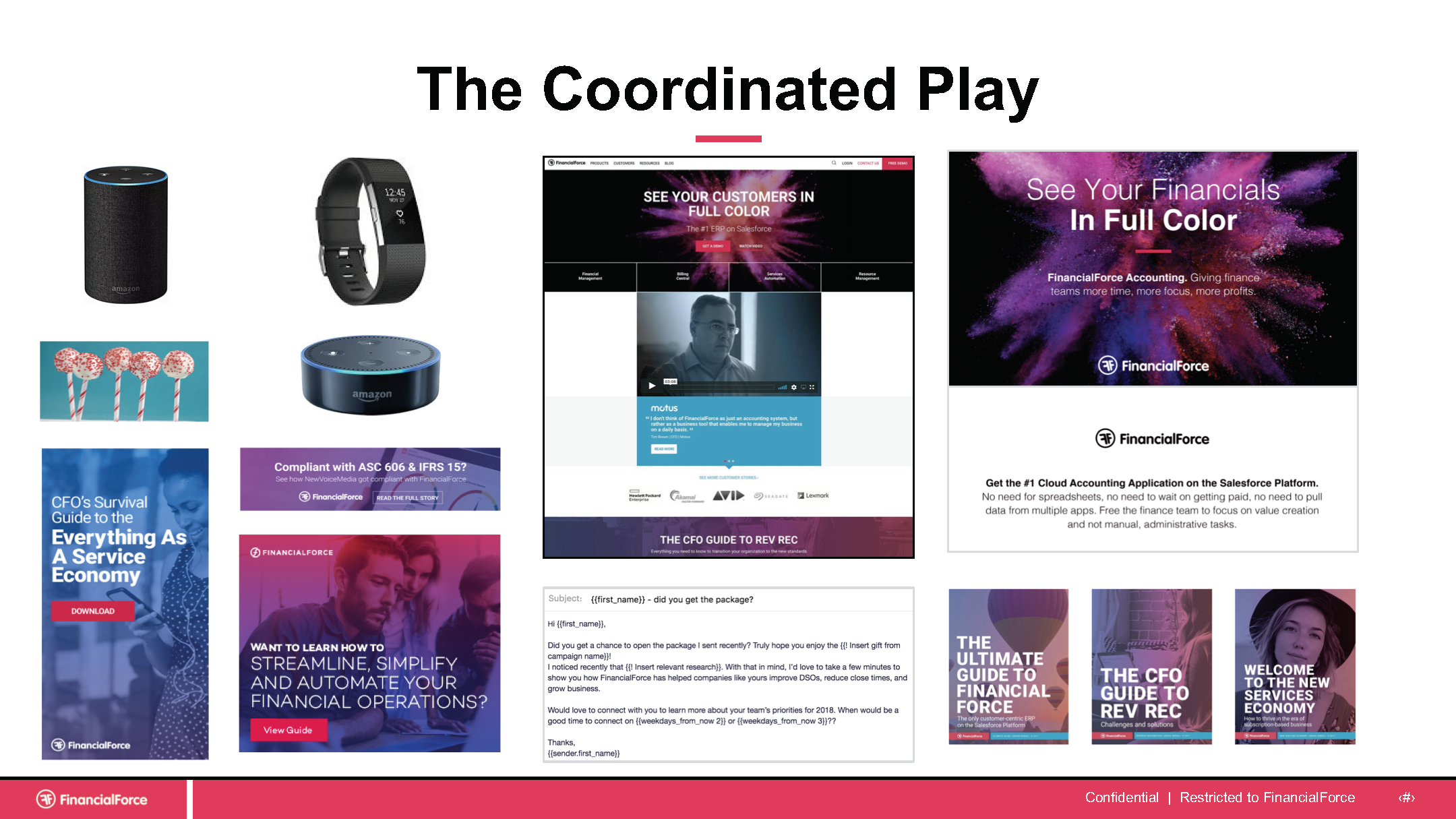 The campaign still contains messaging around ransoming the Echo, but in order to broaden reach, they are also delivering display ads, personalized emails, direct mail, web personalizations, and more. With ABM, marketers can run coordinated plays that scale to hundreds of reps.
The Tools
In an interview with Triblio, FinancialForce's Director of Demand Generation Ciaran Mahoney stressed that "the journey to a complete ABM strategy really requires you to use vendors that can support you on that journey." Here's a glimpse at FinancialForce's martech stack: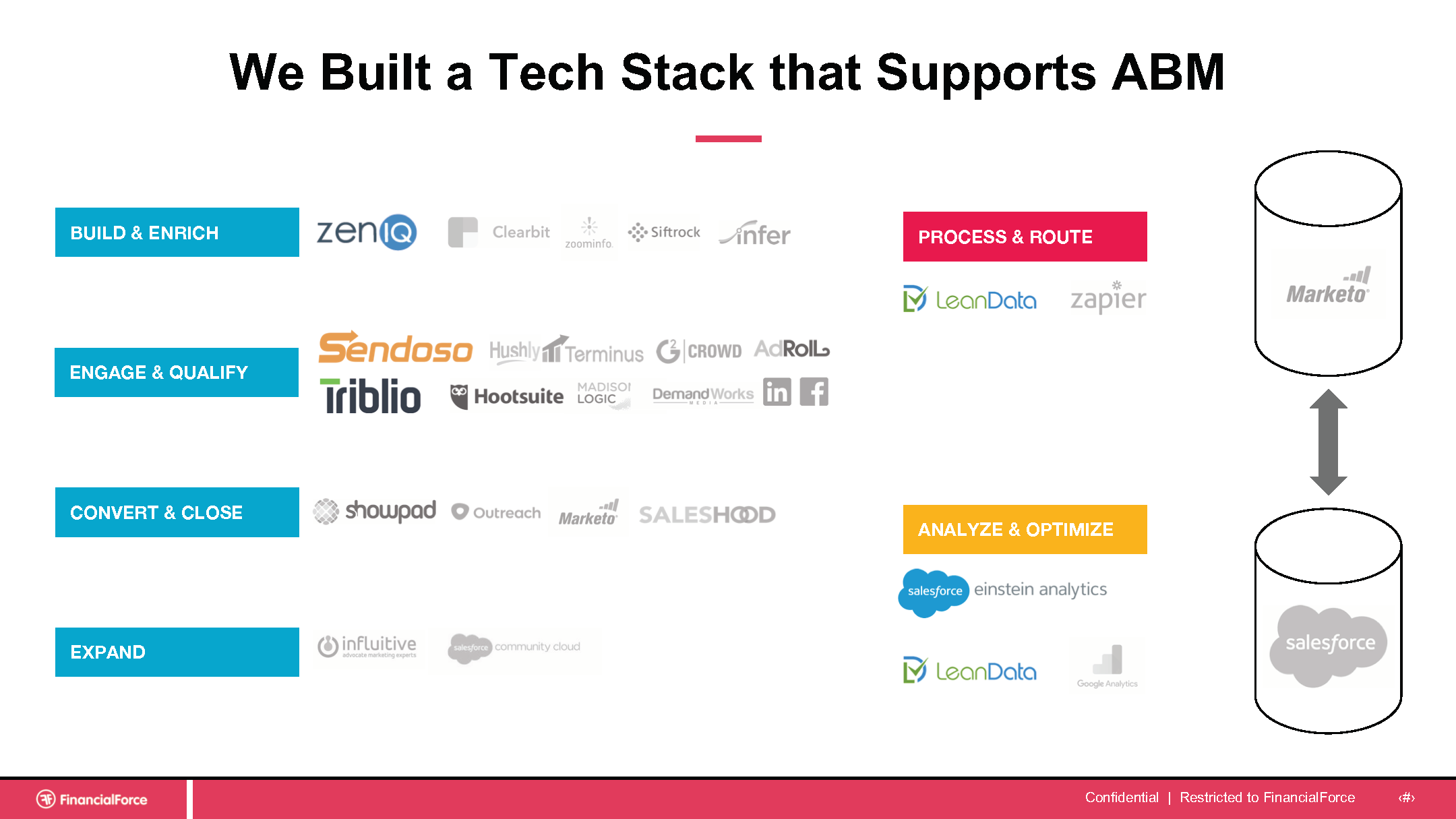 Here at Sendoso, we know that the most effective way to reach prospects is by combining direct mail with digital. 2017 Direct Mail trends shared that direct mail with digital ads yields 28% higher conversion rate. FinancialForce experienced outcomes like this along with greater alignment between sales and marketing.
For the digital piece, FinancialForce uses a variety of tools. Triblio is used to coordinate marketing and sales touches, personalized for each segment. This segmented approach to ABM allows marketers to prioritize resources for 1:1, 1:FEW, or 1:MANY targeting, depending on segment factors such as account size, purchase stage, and customer lifetime value.
Takeaway
FinancialForce, having to become 80% account-based by end of year, had big numbers to meet leading to a full re-vamp of their one-dimensional campaigns. This is how they did it:
Adding more personalization from their sales team to replace generic email sequences
Upgrading their martech stack to fill inefficiencies in both reach and analytics
Doubling down on what worked, and scraping what didn't
FinancialForce is now running coordinated marketing and sales campaigns across direct and digital channels. With account-based tools like Sendoso and Triblio, they can operationalize their ABM strategy and scale personalized, multi-channel campaigns.