AIS was a great two days of networking with fellow ABM enthusiasts, educational sessions, and let's not forget about the yummy food (which is a key to a successful conference in our opinion).
We had a great time as a sponsor on the show floor, but some of our team were able to sneak off into sessions, and here are some of the topics that stood out to us.
Going All in on ABM: 18 Months of Agile Account-Based Marketing
Speaker: Elle Woulfe - VP of Marketing Lookbook HQ
Twitter: @ellehwoulfe
Elle Woulfe took the stage on her birthday and sure did deliver! Elle broke down how LookbookHQ successfully executed Account-Based Marketing. She shed light into their overall goal, and that was a way to execute ABM so their sales teams would have higher percentage shots at closing their target account list.
They started by:
Comparing current customers with lost opportunities to find the most common attributes of successful outcomes
Tightening the targeted list, and built A, B, C scores by assigning scores with the common characteristics of successful outcomes
Creating a Psychographic Fit of the individual people that were high performing marketers
They saw success, but it was time to optimize for efficiency and revisit theed the goal. They made other major changes like eliminating geographic territories, reduced the MQL process, switched up messaging of segments, and implemented alerts for their sales team on all target accounts. Lookbook HQ has already seen amazing results, they had a 60% response rate, and the Marketing team is continuing to build this program.
Actionable Takeaways:
Involve your sales team into the account selection process, but re-evaluate in marketing to finalize and tweak where needed
Create coordinated plays using direct mail and digital to optimize results
Don't be afraid to let your buyer come to you, rather than gating all content
Orchestrating Omnichannel ABM with B2B Data and Intelligence
John Hurley - Sr. Director, Product Marketing Radius
Twitter: @Johnsjawn
John Hurley took the stage post-lunch and still managed kept the entire room engaged through his 4 step process to ensure B2B data is maintained at the highest accuracy; Fix, Find, Source, Activate.
Fix your damn data: To maintain database integrity, match your database to a third-party database to purge unmatched & duplicate accounts at a monthly cadence
Select your accounts: Keep sales in this process so that when they find an account that they don't actually think is a fit, they don't lose hope in the process.
Find Contacts: Without the right accounts, you won't have successful campaigns. Use third-party data to find net-new contacts with accounts, append new contacts to existing accounts, and enrich existing contacts with updated information.
Now it's time to launch your omnichannel ABM campaigns!
Actionable Takeaways:
Build a strong foundation with accurate data
Data maintenance is an ongoing process
Fixing your data is the best way to boost campaign performance
From Prospecting to Customer: Maximizing Lifetime Value with ABM
Heidi Bullock - CMO Engagio
Twitter: @HeidiBullock
Heidi owned the stage at the end of the day and shared how to get most out of ABM in all aspects of the customer lifecycle. She emphasized how important customer marketing is, but unfortunately becomes an afterthought most of the time.
She clearly laid out steps to effectively implement ABM
Start with Goals: Define a clear plan for your teams, models, and stages.
Define Who: Not all your accounts are the same so have clearly defined journeys for your key personas.
Ask How: Develop programs at scale with goals (Awareness, Engagement, and Action)
Heidi shared to have programs for different stages and to make sure that you have enough coverage for these programs. Having clear key points to drive people to and measuring transformation points are clear.
Actionable Takeaways:
Sales teams think about accounts, so Marketing needs to think about accounts too
Keep clear goals of programs in order to have alignment through Marketing & Sales
Notify Sales teams with alerts of major and minor activities from accounts
Needless to say, it was a fun show and our team is excited to be heading back next year. Even our CEO's dog, Stella had a blast!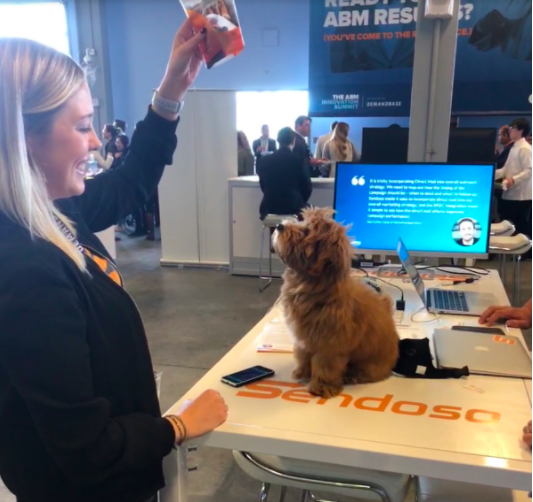 See you next year!